It's spring and as you probably already know the most popular time for selling and buying a home. As I drive around town the realtor and open house signs are popping up left and right! Being the nosey person that I am I hit Zillow anytime one peaks my interest.
When I listed my house for sale two years ago I was ready to move on and had a plan in place. The listing went live and my realtor received many requests for showings. In just the first few hours we received multiple offers! Want to know how?
I hired an amazing realtor. Ask friends and family for recommendations. Everyone knows someone who is fabulous or at the very least can tell you who to avoid. You will be working closely with this person so it is important to have someone that you like and trust. I was lucky enough to have a great realtor as a friend. If you are local to me I will gladly pass along her contact info.
I priced it right. It is very tempting to want to price your home higher. In fact this is what my husband wanted to do. I knew from my own research what comparable homes in my neighborhood had been selling for. When my realtor presented us with our suggested listing price my husband was taken back. We had invested a lot of time and money making improvements over the years. You need to leave the emotions out of it and list your home at a fair asking price. If you list too high your home will either sit on the market or you will receive low offers. Whenever I saw a home that was for sale for a while I questioned what was wrong with it.
I paid attention to the curb appeal. First impressions are everything, especially when looking for a new home. Weed and mulch those flower beds, keep the grass cut, plant colorful flowers and add a few decorative touches. Also be sure to have shutters, railings, gutters and other outside elements in perfect condition. While the buyers are waiting for the realtor to unlock the door they will be looking around. If they see maintenance that needs to be done they will wonder what else you have not been keeping up with.
I made the house smell good. There is nothing worse than walking into a prospective home with bad odors. It is an immediate turn off. There was a home that I did not even want to step foot in that stunk like moth balls from the front door. Use a light scent or bake something tasty before showings. Please do not put in strong smelling plug ins. That is just as bad as odors and makes people wonder what you are trying to cover up. Take your pets with you if possible. I promise you people (and especially those with allergies like myself) will notice them
I staged my home. Declutter Declutter Declutter. Have you ever visited a model home? They are free from clutter and have a cohesive design throughout the house. Hiring a stager is a great idea. If that is not in your budget and you have a friend who is a good decorator ask them for their opinions.  I staged my home myself but texted pictures to a few friends for opinions. They helped me out very much! As you can see from these photos I kept the accessories to a minimum but still let the home have some personality. Tons of toys were packed up as well as extra decor and kitchen items. We rented a storage unit and emptied most of the contents of our garage. This is a great way to start packing and purging your things!
I depersonalized the house. People get distracted looking at family photos. I am sure your kids are adorable but they want to envision their own family living in the home. Normally I have a ton of family photos up in our house. To save money I took a few frames and added new neutral artwork to them instead. At Hobby Lobby I found a few decorative posters on clearance. Using the mats that came with the frames I trimmed them to fit and turned them into artwork. I also went through photographs I had taken and printed some scenery and landscape shots in 8×10 prints.
I made as many repairs ahead of time as possible. We had a window company come out and repair a few windows that had broken seals. Trim was repainted, a few broken blinds were taken down and replaced with curtains instead and grout was redone. When I enter a home as a buyer I take notice of anything that needs to be repaired and start deducting those charges from the price I will be offering. Try to make as many repairs as possible before listing your home. The home inspector will most likely still find some issues but fixing them on your own first will be a big help.
I made the house as neutral as possible and moved rooms back to their intended purposes. I chose paint colors that would be acceptable for many decorating styles. Children's spaces are fine to remain colorful but main rooms need to be pleasing colors. If you do not agree with me just watch an episode of House Hunters! I personally have no issue since I am the DIY type but to others it is a huge deal apparently. While we lived in this home we used the formal living room as our dining room and the dining room was our office/playroom combo. Seeing the kids while I was cooking was more important to me. I had used the chandelier over my bed in the master and a ceiling fan was in the office. We swapped those back before listing.
I took good listing photos. In the virtual world we live in today everyone is looking at online listings. This is the very first impression most people are getting of your home. Make it count! Hiring a professional is a great way to guarantee good pictures but I have seen some "interesting" photos. Prime example is my current home. When I first saw the listing I was turned off by the over edit of the pictures. They had a type of dreamy filter on them which blurred the edges and made the lighting very odd. I was not sure if I wanted to add this home to my showings. Well, until I saw the pool and backyard. When I did my photos I took pictures of space from all different angles. I narrowed it down to the best photos to represent our home.
I made updates that appealed to buyers. Not long before we sold our house the stove had been giving us some trouble. Instead of just repairing it we spent a little bit more money and replaced it. A brand new stove was appealing and looked great on the listing. New floors went in the master bathroom and laundry room. They are now fresh and clean with minimal cost to us.  While we owned the home we had made many updates like trim, hardwood flooring, Travertine tile, new carpeting, granite counter tops, painted cabinets and updated light fixtures. These are all things that buyers are looking for and set us apart from some other homes for sale in the neighborhood that still had the builder grade original finishes.
I wish you luck on the sale of your home and hope you enjoy house hunting!
Also shared on: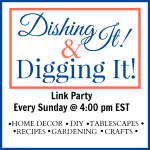 Please follow and like us: